Semi Truckload Pricing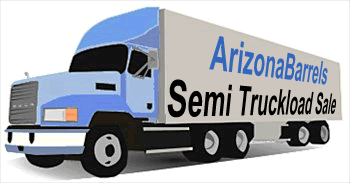 Need a semi truckload of barrels? We offer special sale pricing when you arrange and pay for the frieght.
Details of Special Offer:
Approximately 288 55 gallon used food grade, closed top, plastic barrels will fit into a semi trailer.
Please Call for Quote. F.O.B. Glendale AZ 85306.
You arrange and pay for the frieght.
Call or e-mail us by visiting our Contact Us page.
and remember ...
Delivery is also available in Arizona. See our Arizona Delivery Information page for more details.
Click to return to the ArizonaBarrels.com Home page.